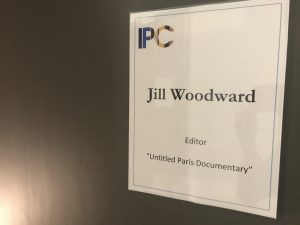 Jill Woodward is a freelance documentary editor and filmmaker. She was editor and writer of 1946: The Mistranslation that Shifted Culture. It won the Audience Award at its premiere at DOC-NYC in 2022, and is currently having an successful festival run with over 20 awards, including being named Best of Fest at Palm Springs International, Audience Award at OUTfest in LA, and a jury award at Out on Film in Atlanta.
Other recent projects she edited include Casey Anthony: Where the Truth Lies, a 3-part series for Peacock Network; the feature documentary, This Is Paris, about Paris Hilton, selected for the Tribeca Film Festival in 2020; a five-part series, Breaking Life, for the Olympics Channel, and a television documentary China Queer.
She also worked on the documentary Get Me Roger Stone, and the film Divide & Conquer: The Story of Roger Ailes, which premiered at the Toronto International Film Festival in 2017.

Jill has also edited segments for PBS, videos for organizations such as the U.S. State Department, TIME.com, plus her own independent short films.
Jill began her broadcasting career at CNN in Atlanta, and later transferred to CNN-New York. During her tenure she covered Hurricane Katrina, the September 11th attacks, wars, major U.S. elections, the entertainment industry, and financial news. She edited award-winning coverage which garnered Emmy, Headliner, Dupont, and Loeb Awards.
She had a 2 year stint in Amsterdam where she worked for the English language newsroom at Radio Netherlands Worldwide as a journalist.
After returning to New York City, Jill began a collaboration with choreographer Despina Stamos on a dance project with refugees in Greece. She directed a trilogy of short documentaries as a result: passTRESpass, bodies of resilience and Journey without a Map.
She is available to work on site or from home. You can find recommendations for Jill Woodward on her LinkedIn profile. Find her on IMDB here.
For fun, Jill performs with the Hungry March Band, the L Train Brass Band, and is an amateur fire performer.
Site based on an original design by Christie Grotheim at the Art Department.